The Assistants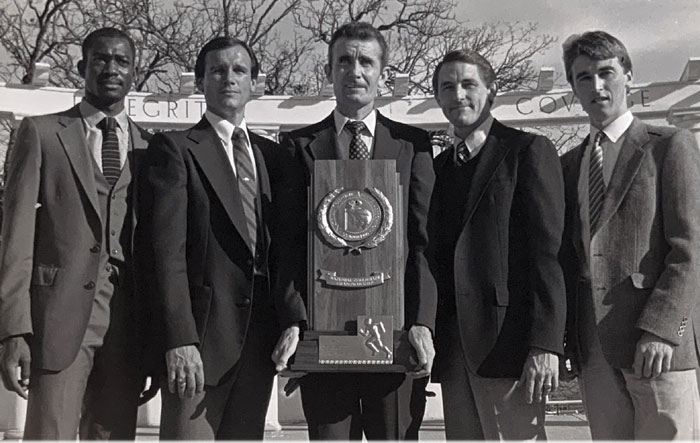 a loyal coaching staff
John was fortunate to choose as his first assistant, Dick Booth, who turned out to share the same competitive zeal and an uncanny knack for coaching jumpers. Dick is arguably the greatest jumps coach ever and coached 49 individual national champions. He served as John's assistant for all but 4 years. They were an incredible partnership.
Ted King, a British jumps coach, continued the Razorbacks momentum in the jumps during the 4 years of Dick's absence. After his time with the Hogs, he spent 4 years coaching in Canada, and in 1992, he returned to a similar role in the UK.
Doug Williamson was the sprints coach and a very energetic member of the first NCAA teams. He became a head coach at Virginia in 1985. He was replaced by Stanley Redwine who played a vital role as an athlete in the early years and today is the highly regarded Head Coach at the University of Kansas. He spent 10 years on John's staff.
After Stanley became Head Coach at the University of Tulsa, John chose as his replacement Steve Silvey who had been head coach at Blinn Junior College where his teams won fifteen National Junior College Championships. Two other individuals held the sprints position during John's tenure, Lance Brauman and a former Razorback athlete, Kyle White. Over the course of 34 years, John engendered tremendous loyalty from his team and saw little staff turnover which greatly contributed to the program's success.
Dick Booth
Arkansas Assistant 1978 – 1984
USL Head Coach – 1988
Arkansas Assistant – 2008
Florida Assistant – 2011
Alabama Assistant – 2014

Doug Williamson
Arkansas Assistant 1981 – 1985
Virginia Head Coach -1987
Alabama Head Coach – 1995
Arkansas Assistant 2000 – 2003

Ted King
Arkansas Assistant 1984 – 1988
Canadian Track – 1992
United Kingdom Track – present

Stanley Redwine
Arkansas Assistant 1985 – 1994
Tulsa Head Coach – 2000
Kansas Head Coach – present

Steve Silvey
Blinn JC Head Coach 1987-1994
Arkansas Assistant – 2000
Oregon Assistant – 2003
Texas Tech Assistant – 2007
Mississippi State Assistant – present