John McDonnell
The west coast of Ireland can be spectacular on a warm summer's day but on a dreary winter's day quite the opposite. The area was particularly ravaged by the great famine in the mid 1800s and never fully recovered. Into this environment was born John McDonnell in Crossmolina, County Mayo on July 2, 1938. John was the seventh of eight children who were raised on a dairy farm. There were no tractors or electricity so hard work was the order of the day. Being so isolated, there naturally was little in the way of employment opportunity so a decision to leave was quite simple. First stop was the capital, Dublin, where John established a reputation as a national class runner, winning six Irish Championships.
John eventually emigrated to the USA where he worked as a cameraman for ABC in New York City before eventually accepting a scholarship to the University of Southwestern Louisiana (USL). However, before departing for Louisiana, there was the smallest of matters to address. He had met a girl at the Catholic War Vets dance on Thanksgiving night. Her name was Ellen Elias, and she was from Bayonne, NJ. They married before moving to Louisiana.
After graduating from USL in 1969, John took several high school coaching positions. But John was destined for a greater challenge. He needed to find a school with the resources to finance a quality track team. The key was a successful football program which could fund spring sports, and he identified 2 schools that met the criteria; the University of Oklahoma and the University of Arkansas. Perhaps he could turn one of these programs around. He chose Arkansas because the rolling country side reminded him of home.
Coaching college track was not particularly lucrative so John augmented his income by taking a job teaching shop at Greenland High School just south of Fayetteville. He was also an assistant track coach.  When the head coach resigned in 1977, the athletic director, Frank Broyles, appointed John as the new Track & Cross Country Coach.  Despite numerous more lucrative offers over the years,  John would hold this position for the next 34 years.
John retired from coaching in 2008 and he still lives with Ellen in Fayetteville. His son, Sean lives in town and his daughter Heather and her husband, Jeff,  recently returned. John and Ellen were ranchers in Oklahoma for many years but sold the property in 2019 and are now completely retired and living full time at home in Arkansas. Both remain big supporters of Razorback Cross Country & Track.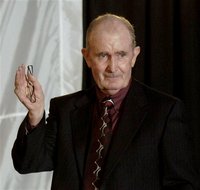 Personal Bests
Mile – 4:10
2 Mile – 8:48
3 MILE – 13:54
NCAA Titles
Cross Country – 11
Indoor Track – 19
Outdoor Track – 12
Triple Crowns – 5
Conference Titles
Cross Country – 34
Indoor Track – 27
Outdoor Track – 22
Triple Crowns – 21
Honors
National Track Hall of Fame
Arkansas Sports Hall of Fame
UA Hall of Honor
National Coach of the year 30 times
Conference Coach of the year 48 times
Streaks
34 Conference XC titles
11 NCAA Indoor titles
8 NCAA Outdoor titles